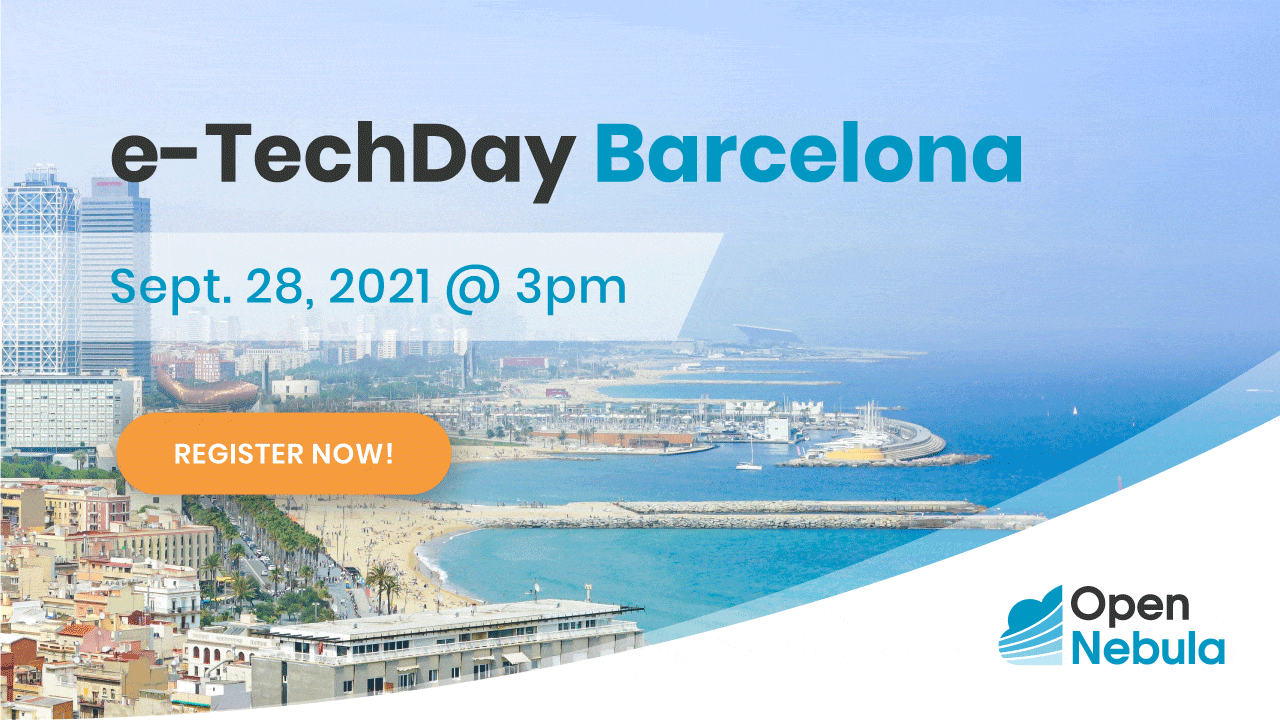 About this e-TechDay
The OpenNebula TechDays (now turned virtual due to the COVID-19 pandemic) are educational and networking events organized by OpenNebula user groups and local partners. Join our technical experts and the local community to learn about the novelties in OpenNebula 6.0 "Mutara" and how to deploy and orchestrate at the edge application containers as lightweight microVMs. Find out more about specialized virtual machine images targeting specific applications (Unikernels) and also about the new virtualization technology developed by Amazon Web Services(AWS): Firecracker! 🚀
Program
3:00 pm – Introduction [ES|EN]
3:15 pm – Orchestrating containers with the new OpenNebula 6.0 – Christian González (OpenNebula) [ES]
4:00 pm – Firecracker: the microVM journey continues – Diana-Maria Popa (AWS) [EN]
5:00 pm – Unikernel hands-on tutorial – Xavier Peralta (CSUC) [ES]
5:30 pm – Q&A [ES|EN]
Speakers
Christian González has been working as Cloud Engineer at OpenNebula since early 2018, becoming one of the project's core developers and creating drivers and integrations with third-party technologies. Apart from participating in complex deployments and training services for corporate customers, Christian is in charge of OpenNebula's integration with the Docker Hub marketplace and also with Firecracker, a combination that allows OpenNebula to orchestrate application containers using this new microVM tech developed by AWS.
Diana-Maria Popa is a software development engineer with Amazon Web Services (AWS). She has been a Firecracker maintainer since its inception. Over the past year, her work was mainly focused on enabling Firecracker to run on ARM systems.
Xavier Peralta has a Technical Engineering in Computer Systems from the Polytechnic University of Catalonia (UPC). At CSUC since 2013, he is currently Systems Expert Leader at the Operations & Cybersecurity unit, and Task Leader in the European UNICORE project.
Reserve yout seat! https://opennebula.io/techdays/e-techday-barcelona-2021/